---
Custom Framing Services
---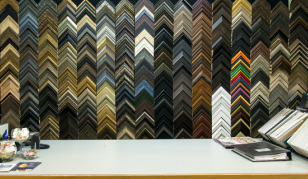 Personalizing your home or work space with custom framing is a great way to express your personality and to enjoy your surroundings. While others can go to the store and buy the same sofa, tables and lamps that you have, it is highly unlikely anyone will ever have the exact same custom framing as you.
Regardless of what you choose to have framed for your home or office, whether it is a favorite piece of art, a mirror, an object inherited from an ancestor or anything else, it will add interest to your space.
Victoria's carries a large selection of frames and mats for you to choose from. All framing is done on site so you don't have to worry about your precious heirloom getting lost or damaged.
Each customer is fully involved in the selection of frames and mats with the help of Victoria's artistic and professional guidance. She takes great pride in her creations and each piece is unique to the customer's needs. With Victoria's many years of experience you are assured of a piece that you can be proud to hang in your home or business.
All mats are cut using our state of the art computerized mat cutting system to help create those special cuts that can't be done by hand.
Victoria's uses only conservation products and methods, every piece is professionally assembled to help ensure your precious heirloom will be around for many years to come.
---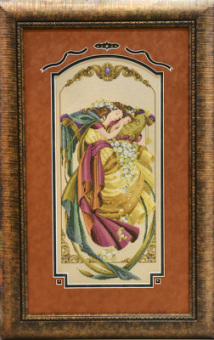 What is Conservation Framing? To have something conservation or preservation framed is to employ methods and materials to ensure the object being framed is protected from harmful environmental factors while not compromising its condition or integrity.
Conservation Framing allows for the safe display of artwork while avoiding deterioration from exposure to the environment.
---

​At Victoria's, we frame just about anything ... check out our many examples below.
Frame it once... and love it for a lifetime!

---
Interested in learning more about Custom Framing? Just click the link below.
---
Other services available:

Plaque Mounting

Plaque Mounting is an inexpensive, yet extremely durable, alternative to protect and hang your poster, print, photo, or artwork. The print is dry-mounted onto a sturdy piece of high density pressed wood, then it is permanently sealed with a clear vinyl matte UV-blocking laminate. The edges of the plaque are then beveled and coloured.
Please contact us for pricing.

Canvas Stretching

We offer canvas stretching services. This includes gallery wraps and traditional wraps.
What is a gallery wrap?
This is a process where the canvas is stretched over a 1.5 inch stretcher frame. The edges are mirrored to provide what looks like a continuation of the image around the edges. The piece is ready to hang and requires no frame or glass.
What is a traditional wrap?
This is a process where the canvas is stretched over a 3/4 inch stretcher frame and then custom framed. There is no glass or matting and the piece is ready to hang.
Please contact us for pricing.

Check out our custom printing page ... we can transfer that favourite photo to canvas for you!!

---